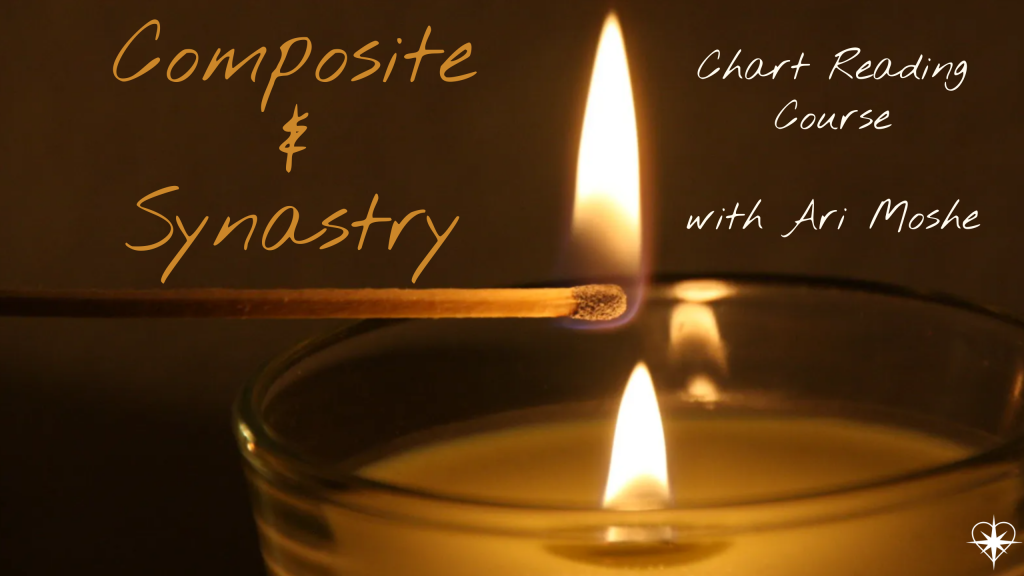 The Heart & Soul Centered Astrology
Relationships and Evolution Weekend Retreat
One of the gems of astrology is its use for providing insight into our relationship needs and how our relationships always reflect and point us back to our core soul evolutionary dynamics. Relationships have such immense spiritual potential, and using astrology as a tool to unlock this potential is incredibly valuable.
The purpose of this course is to understand relationship as a path towards soul evolution and spiritual healing. We will learn the core relationship significators in the natal chart as well as the basic philosophy, skills and practice of synastry and composite chart interpretation from an evolutionary perspective. 
The teachings of this course will be offered in segments:
Part 1: The philosophy and nature of relationship as a spiritual path
Part 2: Understanding relationship needs and soul dynamics through the natal chart
Part 3: The composite chart and synastry comparison
The teachings of this course are based predominately on the teaching of Evolutionary Astrology by Jeffrey Wolf Green and are influenced by the teachings of A Course in Miracles.
Course will be taught over a single weekend. Each class is accompanied with a workbook with essential notes, resources and charts relevant to each class.
This course is open to anyone who is familiar with astrological basics and would like to delve more deeply into the study of composite and synastry work from an evolutionary perspective.
Current and past students of my Heart and Soul Centered Astrology Training program (Part I or Part 2) which includes the Essentials Course Self-Study are welcome to enroll at 25% off. Contact Ari for coupon code.
Composite & Synastry Reading
A 4 Part Course
Or 2 Monthly Payments at $99/month
Frequently Asked Questions
Do these teachings only relate to people in a romantic relationship?
These teachings relate to any two souls in any kind of relationship configuration (family, romantic, business etc).
I can't make the classes live, can I still attend and ask questions?
Yes. You will have access to the recordings. After reviewing the recordings, students are always welcome to ask questions that relate to the course content for the purposes of further clarification.
I am not skilled in Astrology, will I be able to follow?
All that is required to participate is a working knowledge of the basics of astrology, not necessarily any skill in chart interpretation work. This basic knowledge will allow students to follow the language used. This being said, naturally those who are well practiced in Evolutionary Astrology will have a greater capacity to engage and interact with some of the content more deeply. There may be aspects or techniques utilized that might feel like a stretch for those who are more new. Nevertheless, such things will not be the focus on the course and my intention is to keep is simple but deep and accessible.
Will we have a chance to look at our own relationship charts?
Students are welcome to email me ahead of time with specific questions or personal chart examples. If I feel that it would be helpful for the group learning, then I might decide to utilize your chart examples as a part of the live teaching.
What is your refund Policy?
100% refund (minus transaction fee) up until a day before the course. No refund starting the day of the course.