Welcome to my Devotional Love Music page!


Music is a gateway to the present moment.
In the midst of the 1000 emotions, it reminds us
There is no place that is not Home.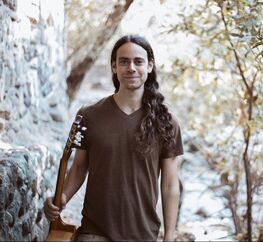 Ari Moshe's music is nourishment for the soul and reminds us of our true Home within. His songs are a combination of devotional poetry, dream messages, and prayers from the sacred traditions. He began his musical journey as a child having been exposed to the sacred prayers and songs of the Jewish tradition. These songs are medicine to Ari Moshe and it is his deepest joy to share them, just as they are a guiding light on his own journey.
Kind words from a fellow musician
"I want people to understand the depth and the power of Ari Moshe, and the music that he channels. Ari's music calls forth and nurtures the areas of our being which are aching for aliveness and for recognition. In his authentic and honest style, Ari Moshe weaves together the ecstatic joys of being, with the true and vibrant layers of belonging and prayer. The music that moves through Ari Moshe are prayers, prayers for unity, prayers for peace, for healing, for a true, deep, and awakened life. His music has carried me throughout the years, as I often find myself humming along to one of his songs. I beseech you to support this music that is finding its way through the vessel of this wonderful man, Ari. It will aid you in your time on this beautiful planet and help to deepen your way." – Daniel Cherniske