Water Signs: The Flow of Life
7 Part Complete Teaching Series
The water signs correspond to the emotional body in general and points to the essence of this human/soul journey.  Our shared origin and the source of all life (Pisces), the evolutionary journey of the soul itself to evolve (Scorpio), and how all of this manifests within an incredibly personal and subjective human experience (Cancer). This series teaches the evolutionary meaning of the 3 water signs, the water element in general and offers profound life wisdom for our spiritual journey. 7 video series includes a live Q and A.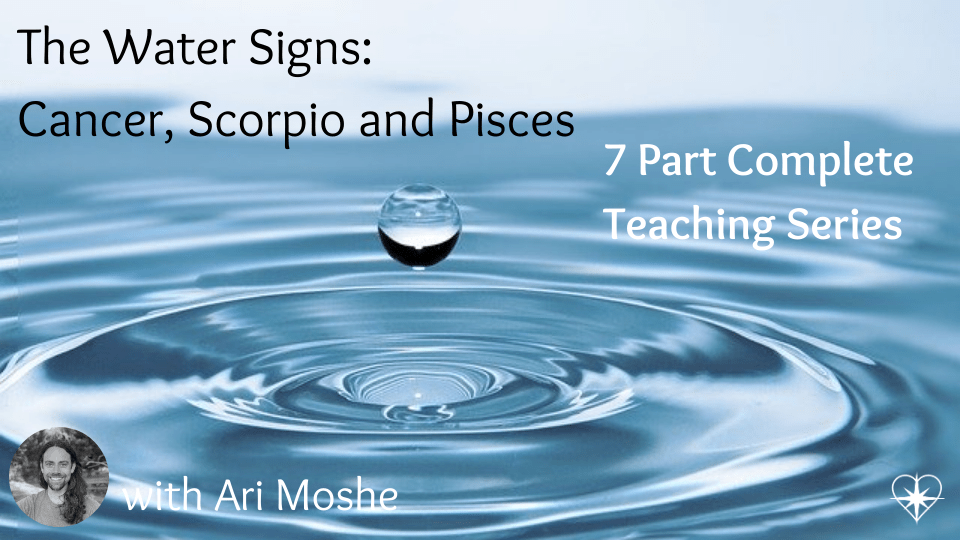 Originally Taught in the NPA Astrology for the Soul Course in 2018.
Includes Over 2 hours of video content plus a 90 minute live Q and A recording.
What Past Students Say About Classes with Ari Moshe
Ari Moshe's teaching is solid in its structure and so fluid, intuitive and limitless in its application. His way of teaching astrology lends itself to creative and critical thinking, so you can integrate it into your own experiences and observations and therefore make it your own. He uses stories, metaphors, scenarios – embodies characters even – all so many different kinds of examples to explain archetypes and the blending of archetypes. The energies he is teaching and describing really begin to be tangible and identifiable. Ari inspires classroom environments that are curious, insightful and open. A wealth of information gracefully communicated.
Ari's clear perception of truth and ability to share powerful concepts and ideas facilitated a process of spiritual alignment for my own evolutionary journey. My understanding of astrology and its useful application in our lives quickly evolved far past what I thought possible from Ari's resonant presentation of the archetypal realms of human experience and how the EA paradigm can tune us into the evolutionary purpose of the soul's journey
.