Planets that Square the Lunar Nodes
An in depth 3 part class series on planets that square the nodal axis of the Moon.
In natal charts, planets that square the nodes represent very important soul dynamics/lessons that have the potential to be understood and resolved in the current life. 
In this talk, Ari Moshe explains the karmic and evolutionary meaning of planets that square the nodes, what they represent, the healing potential they point to, and teaches a specific technique for "resolving" the square. 
Part 1 introduces the topic and defines the specific complex of nodal squares. Part 2 teaches a technique for resolving the square complex and offers a handful of examples of well known people. Part 3 is a live Q and A.
These teachings are based on the teachings of Jeffrey Wolf Green.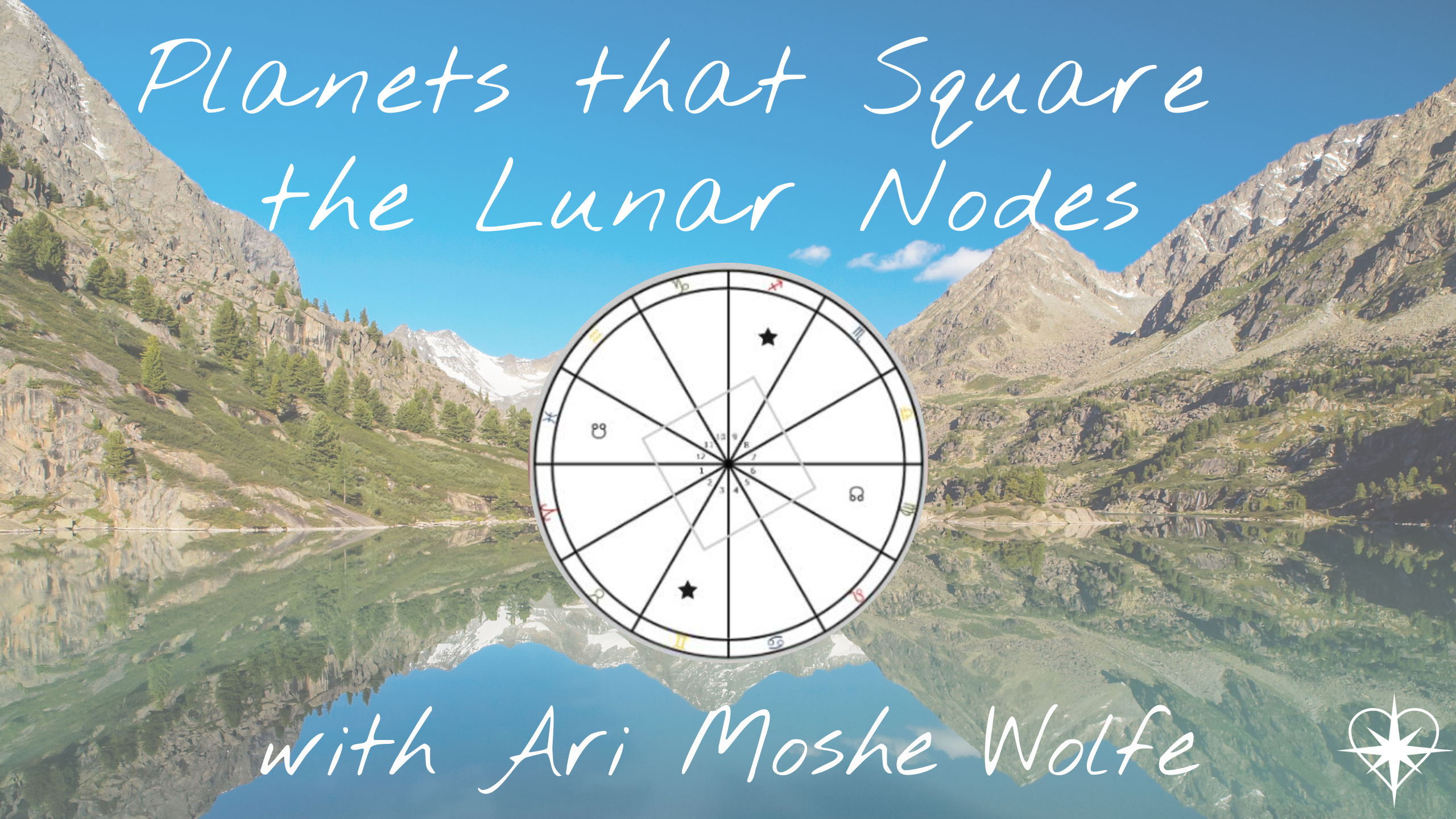 Class originally taught live in May of 2022, hosted by the NCGR San Francisco Bay Area Chapter.
Included in Class: 3 videos, total 2+ hours, includes PDF with slides and notes.
What Past Students Say About Classes with Ari Moshe
Ari Moshe's teaching is solid in its structure and so fluid, intuitive and limitless in its application. His way of teaching astrology lends itself to creative and critical thinking, so you can integrate it into your own experiences and observations and therefore make it your own. He uses stories, metaphors, scenarios – embodies characters even – all so many different kinds of examples to explain archetypes and the blending of archetypes. The energies he is teaching and describing really begin to be tangible and identifiable. Ari inspires classroom environments that are curious, insightful and open. A wealth of information gracefully communicated.
Ari's clear perception of truth and ability to share powerful concepts and ideas facilitated a process of spiritual alignment for my own evolutionary journey. My understanding of astrology and its useful application in our lives quickly evolved far past what I thought possible from Ari's resonant presentation of the archetypal realms of human experience and how the EA paradigm can tune us into the evolutionary purpose of the soul's journey
.