Dishonesty, Alienation, & The Itch to Go:
Healing Karmic Issues with Jupiter
Understanding the pitfalls of Jupiter are incredibly helpful in unlocking our tendencies to live restlessly, to be dishonest, to feel like we need to be somewhere else. On the other end of this is freedom and felt sense of being in the right place at the right time.
In this 2 part series we examine various karmic signatures involving Jupiter and the keys to growth within them with a particular focus on the themes of pessimism, optimism, honesty, alienation, restlessness and guiding vision. Lots of useful insight and chart examples are shared in these classes.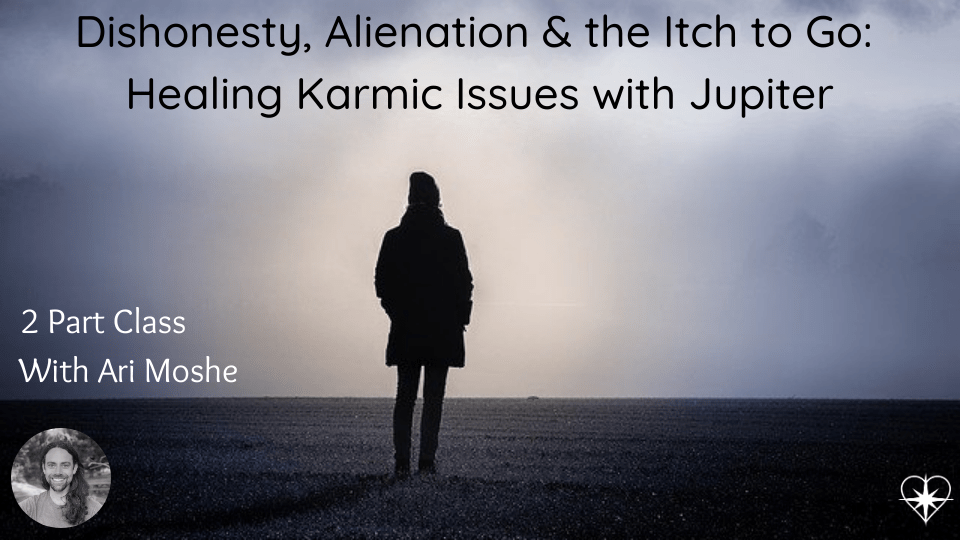 Taught in late 2020. Total time about 1 hour 45 minutes
What Past Students Say About Classes with Ari Moshe
Ari Moshe's teaching is solid in its structure and so fluid, intuitive and limitless in its application. His way of teaching astrology lends itself to creative and critical thinking, so you can integrate it into your own experiences and observations and therefore make it your own. He uses stories, metaphors, scenarios – embodies characters even – all so many different kinds of examples to explain archetypes and the blending of archetypes. The energies he is teaching and describing really begin to be tangible and identifiable. Ari inspires classroom environments that are curious, insightful and open. A wealth of information gracefully communicated.
Ari's clear perception of truth and ability to share powerful concepts and ideas facilitated a process of spiritual alignment for my own evolutionary journey. My understanding of astrology and its useful application in our lives quickly evolved far past what I thought possible from Ari's resonant presentation of the archetypal realms of human experience and how the EA paradigm can tune us into the evolutionary purpose of the soul's journey
.